4K dan high-dynamic range kini jadi barometer penyajian konten hiburan modern sesudah fitur-fitur visual itu mulai digunakan dalam produk-produk elektronik seperti home console serta televisi. Sony telah membubuhkan dukungan HDR di PlayStation 4 lewat update software 4.0, lalu resolusi 4K sendiri ialah salah satu alasan mengapa PlayStation 4 Pro disiapkan.
Jika Anda sudah punya PlayStation 4 Pro di rumah dan saat ini sedang mencari televisi terbaik untuk dipasangkan dengannya, maka Bravia OLED A1 adalah satu kandidat terkuat. Sony telah melangsungkan soft launch sejak bulan Agustus silam, dan pada tanggal 13 September kemarin, sang raksasa elektronik asal Jepang resmi meluncurkan varian baru televisi Bravia OLED tersebut di Indonesia.
Sony menjelaskan bahwa ada tiga aspek yang jadi elemen andalan di televisi tersebut: desain, kualitas gambar, dan mutu suara. Dalam kata sambutannya, presiden direktur Sony Indonesia Kazuteru Makiyama menyampaikan bahwa Bravia OLED A1 series dirancang untuk 'merevolusi home entertainment serta memberikan pengalaman terbaik dalam menonton TV'.
Desain
Bravia OLED A1 mengusung arahan desain 'One Slate'. Tim Sony menjelaskan, konsep ini digunakan untuk menyingkirkan segala hal yang berpotensi mengganggu pengalaman menikmati film atau video: tidak ada lampu indikator ataupun rangkaian speaker di bagian depan yang dapat mengalihkan perhatian kita, hanya ada Anda dan konten high definition.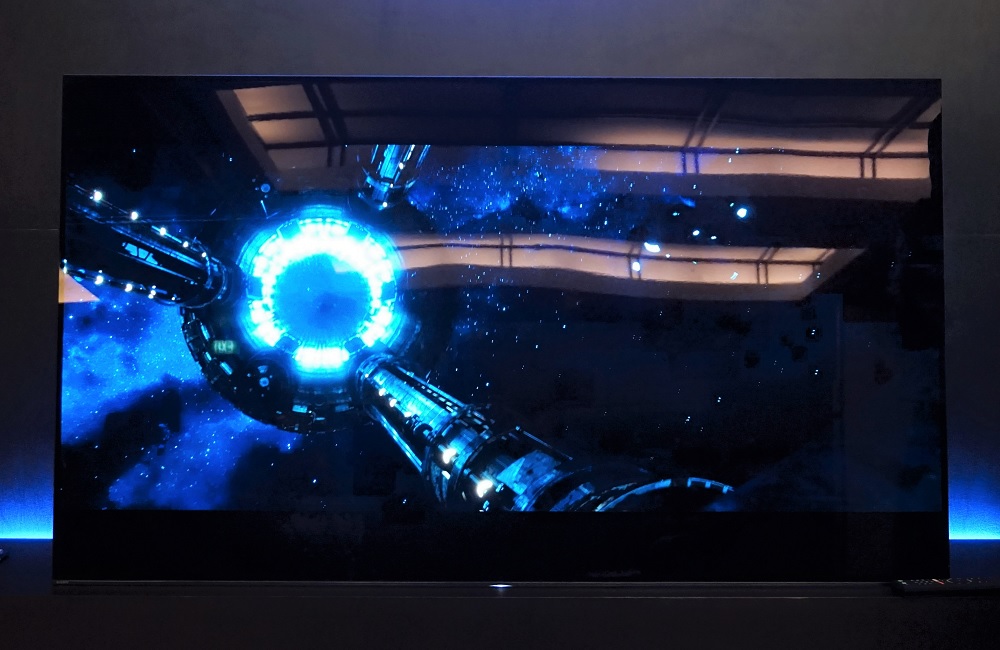 Cara mencapainya adalah dengan berkiblat pada prinsip minimalis. Bingkai Bravia OLED A1 sangat tipis hingga seolah-olah televisi ini tidak memiliki bezel. One Slate sendiri mengacu pada penggunaan satu 'bongkah' layar super-tipis. Sulit dipercaya bahwa komponen display tersebut mungkin lebih tipis dari smartphone Anda. Bagian itu tersambung ke modul retractable yang juga berfungsi sebagai stand.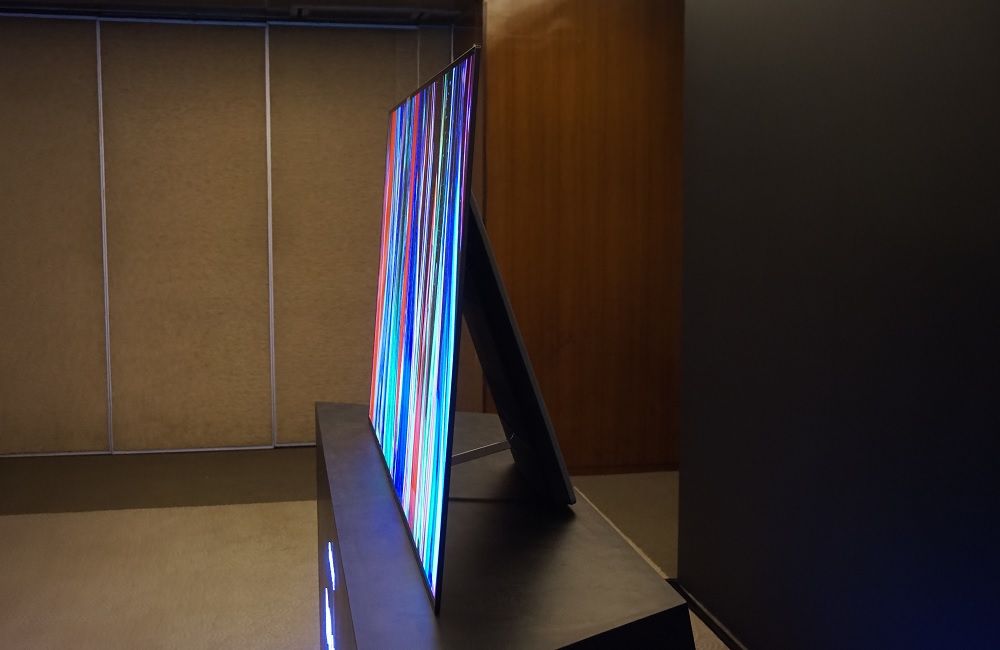 Memang mustahil menempatkan konektivitas fisik di komponen tipis itu. Solusinya, Sony membubuhkan port-port penting di modul stand. Buka tutupnya, dan Anda bisa menemukan port power, kabel/antena, LAN, optical, HDMI hingga USB. Dan di sana pula produsen menaruh subwoofer. Dengan rancangan ini, pengelolaan kabel juga jadi lebih mudah – tak ada lagi kabel berantakan di atas meja ruang keluarga.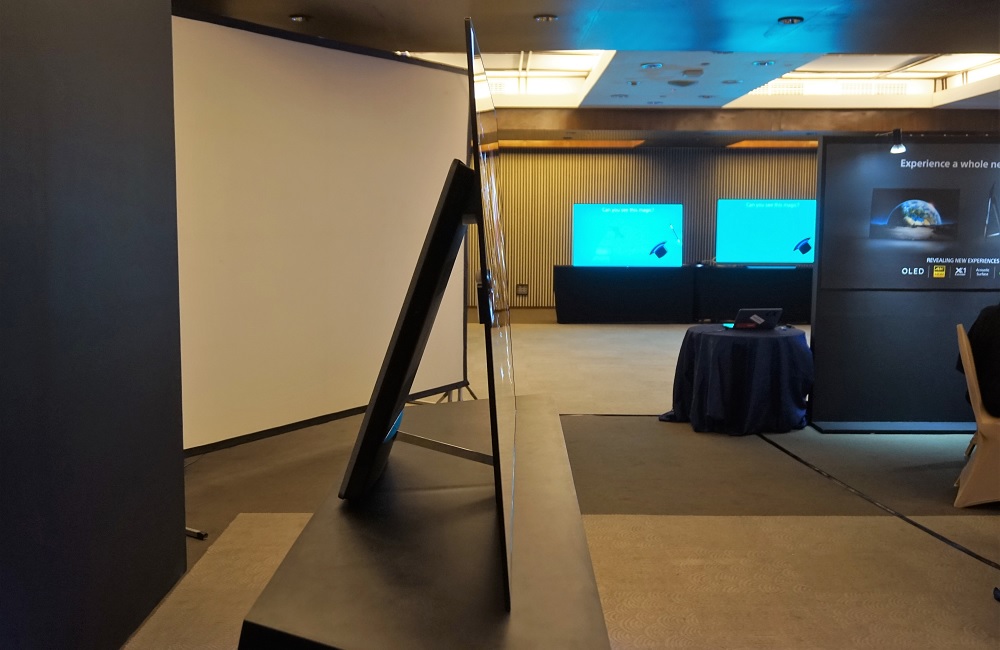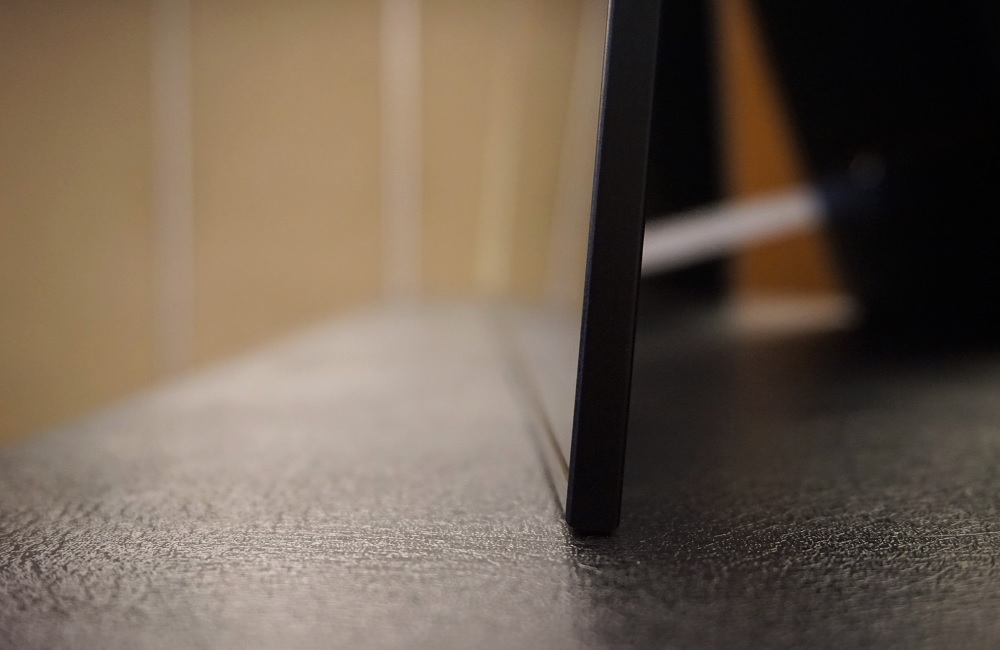 Tentu saja, Bravia OLED A1 juga kompatibel dengan mount standar (VESA) jika Anda ingin memasangnya di tembok. Stand bisa didempetkan ke bagian layar, dan di modul itu, lubang baut sudah tersedia.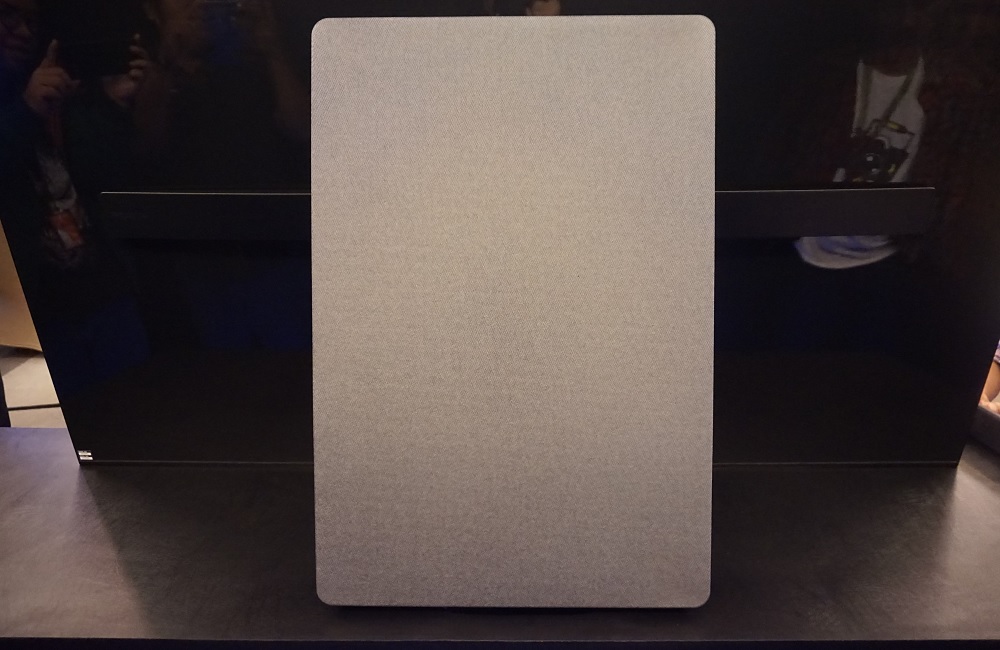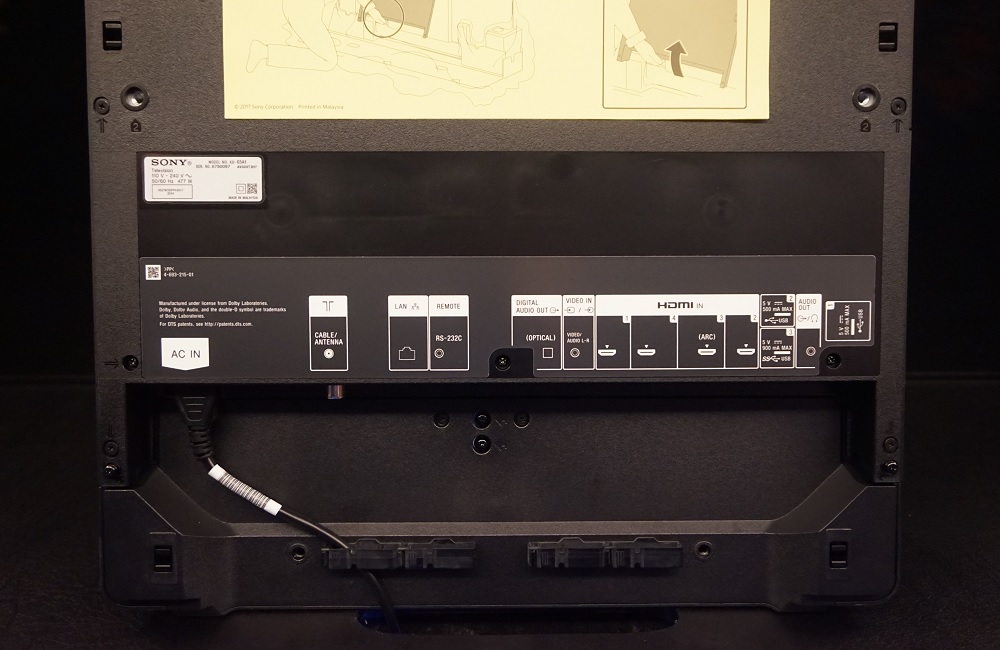 Anggunnya desain Bravia OLED A1 membuatnya memengangkan gelar Best of the Best Reddot Award 2017.
Suara
Penyajian suara adalah elemen paling unik dari Bravia OLED A1. Subwoofer berada di modul stand, tapi mungkin Anda penasaran di mana letak speakernya? Ada sebuah batang melintang di sisi belakang, dan di dalamnya, unit actuator bersemayam. Actuator tersebut bertugas untuk mengubah layar televisi jadi struktur akustik buat menghasilkan suara. Sederhananya, layar yang Anda lihat itu adalah speakernya.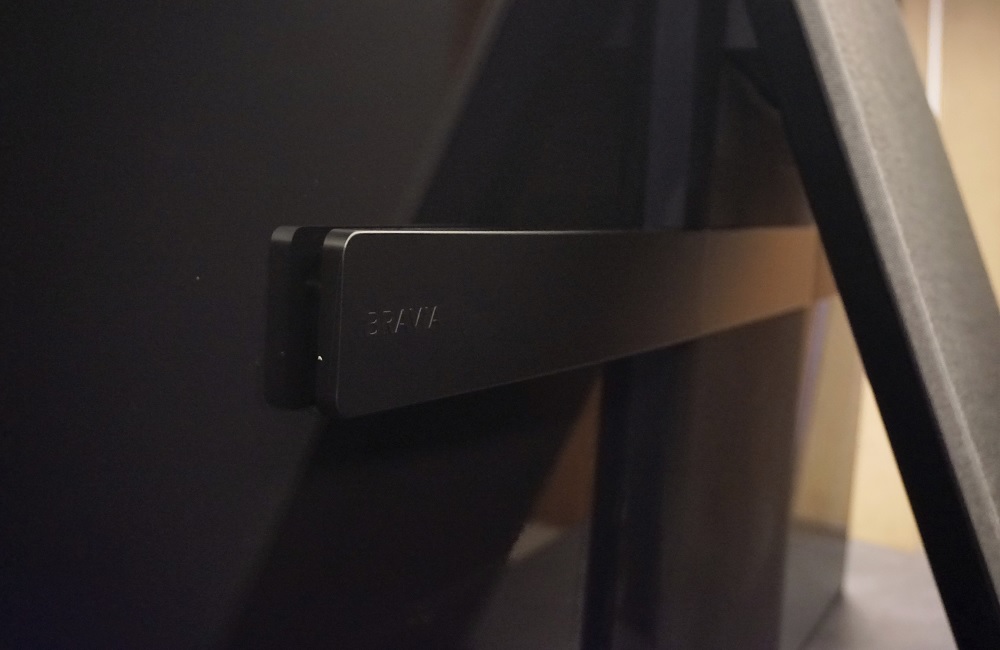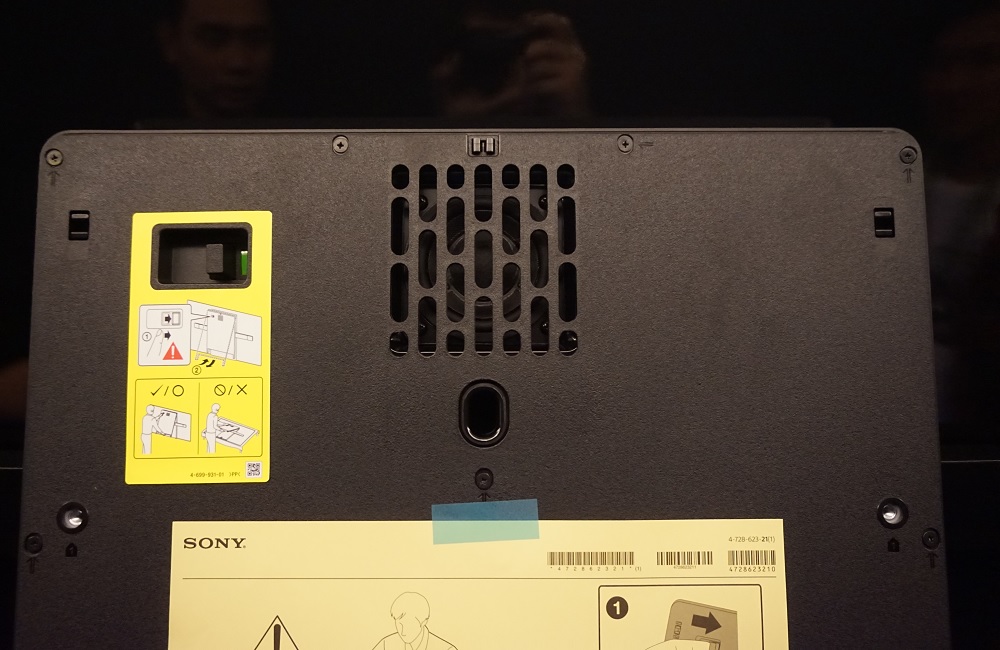 Saya belum mengetahui apakah Bravia OLED A1 Series sanggup menghidangkan suara surround sejati, tapi pastinya, sistem acoustic surface tersebut sangat efektif dalam menyuguhkan pergerakan suara secara horisontal. Dan saat televisi sedang menghasilkan bunyi-bunyian, layarnya betul-betul bergetar.
Gambar
Perbedaan antara panel LCD standar dengan organic light emitting diode yang dipakai Bravia OLED A1 adalah ketiadaan unit backlight. Tanpa terganggu sinar putih, tingkat kontras jadi lebih tinggi, hitam jadi lebih pekat, dan warna dapat tersaji lebih akurat. Sejak Sony memanfaatkannya di XEL 1 (TV OLED pertama di dunia), Bravia OLED A1 menyimpan inkarnasi paling mutakhir teknologi ini.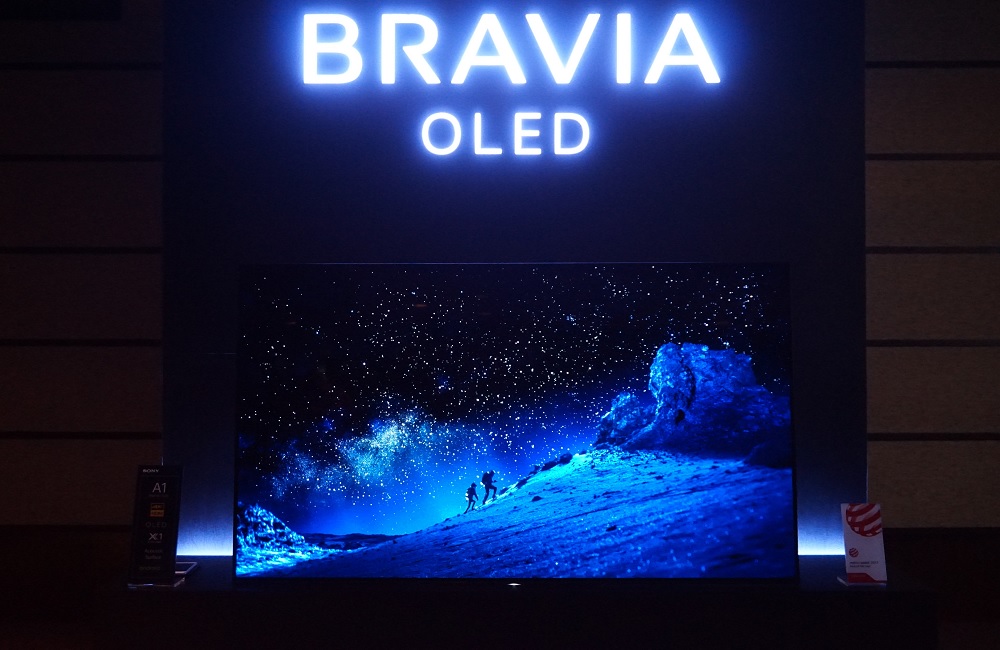 Warna yang lebih presisi tercapai karena tiap pixel di OLED bekerja secara individual dan dapat betul-betul mati, sehingga televisi sanggup menampilkan hitam pekat secara sempurna. Metode ini memengaruhi penyuguhkan warna, detail dan tekstur, serta kedalaman objek. Dan karena tidak diinterupsi backlight, viewing angle jadi lebih luas. Selain itu, OLED juga memiliki karakteristik gerakan yang halus, meminimalkan efek motion blur.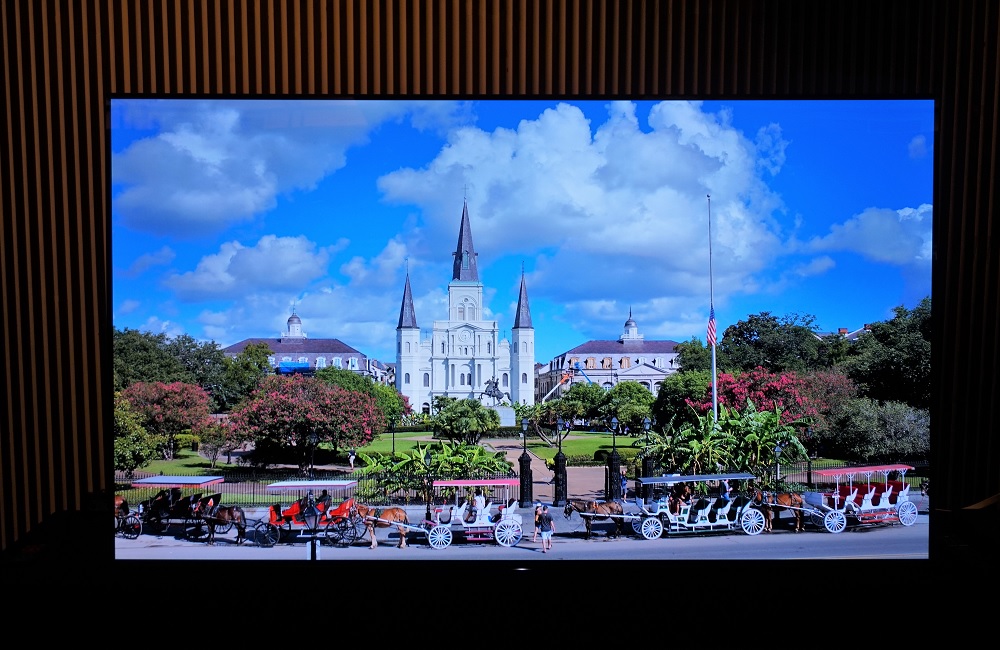 Namun tak sekedar mengandalkan display OLED Triluminos saja, sumber kecanggihan Bravia OLED A1 dalam mengolah gambar terletak pada chip X1 Extreme 4K HDR. Dijanjikan bekerja 40 persen lebih baik dari chip X1 4K terdahulu, Sony meng-upgrade prosesor tersebut dengan kapabilitas Dual Database Processing, Super Bit Mapping 4K HDR dan fitur HDR Remaster berbasis objek.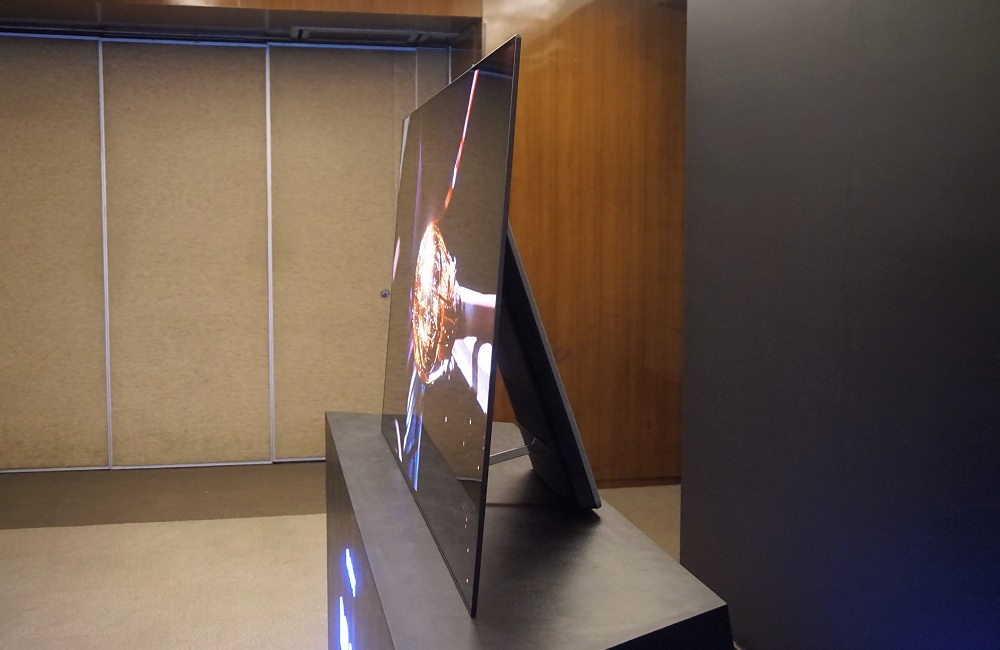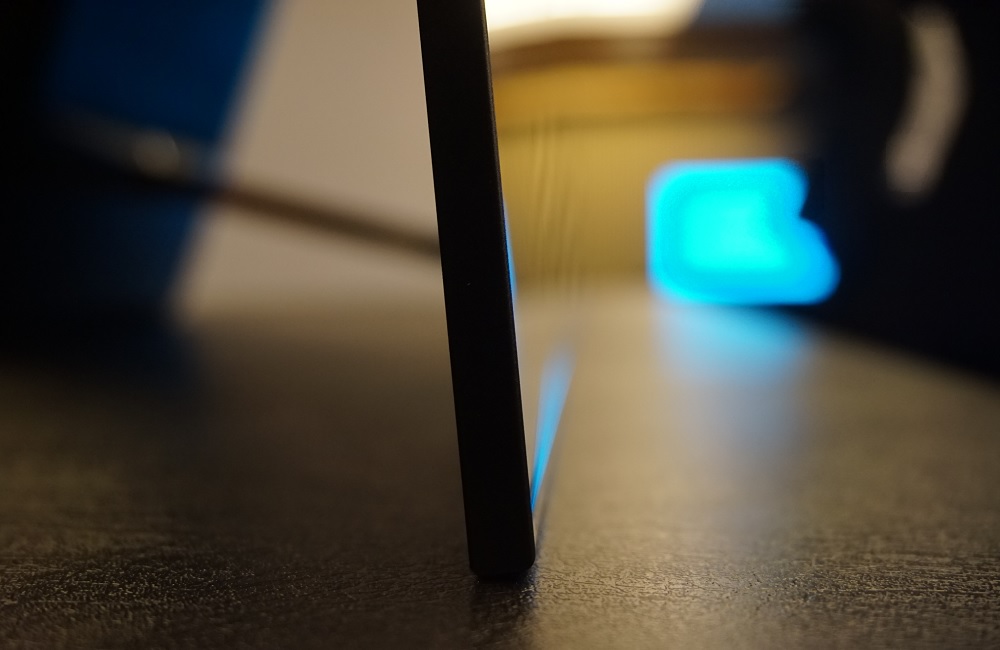 Dual Database Processing punya dua fungsi; pertama adalah mengurangi noise, lalu satu database lagi bertugas mendongkrak kejernihan gambar secara real-time. Kemudian berkat HDR Remaster di X1 Extreme 4K HDR, TV bisa menganalisis warna tiap objek dan menyesuaikan kontrasnya. Selanjutnya, Super Bit Mapping 4K HDR berguna untuk memperhalus garis dan gradasi warna via sinyal 14-bit. Bahkan dari sumber 8-bit, mutu warna dapat meningkat 64 kali.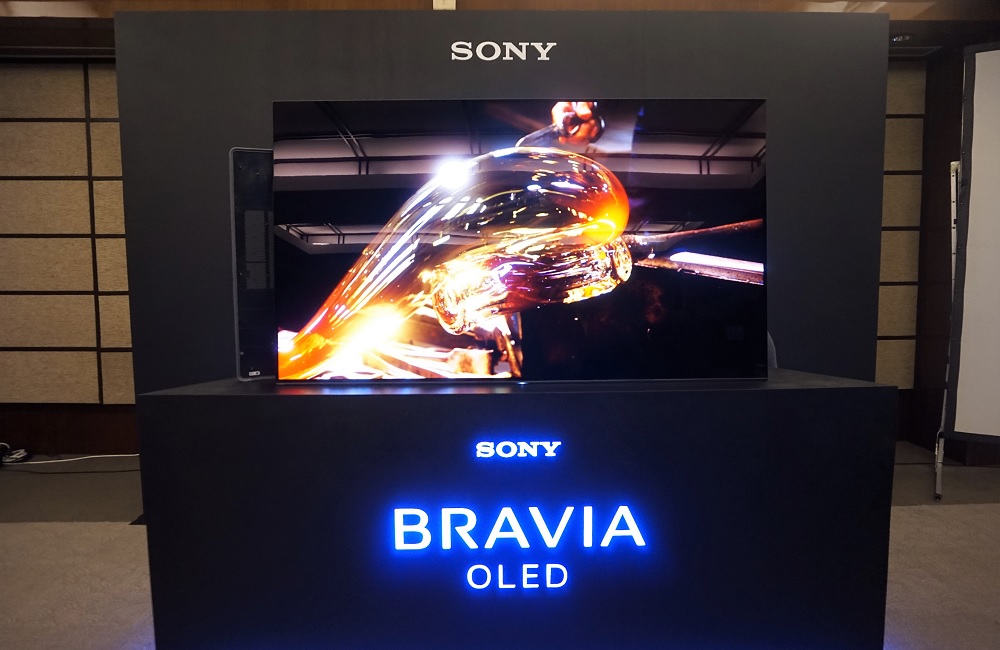 Dalam prakteknya, 4K HDR Bravia OLED A1 mampu menampilkan sebuah objek secara detail, walaupun ia dikelilingi kegelapan yang pekat.
Pintar?
Sony Bravia OLED A1 Series merupakan Android TV, dibekali platform Android 7.0 Nougat, memperkenankan Anda mengakses ekosistem Google Play dengan mudah. Televisi juga dilengkapi koneksi Bluetooth, memungkinkan kita menyambungkannya ke speaker/headsetwireless.
Harga dan ketersediaan
Bravia OLED A1 Series sudah mulai dipajang di toko-toko retail semenjak bulan Agustus 2017, dan saat ini Anda telah dipersilakan untuk membelinya. Varian berlayar 65-inci dijual seharga Rp 60 juta, sedangkan versi 55-incinya dibanderol Rp 50 juta.
DailySocial.id adalah portal berita startup dan inovasi teknologi. Kamu bisa menjadi member komunitas startup dan inovasi DailySocial.id, mengunduh laporan riset dan statistik seputar teknologi secara cuma-cuma, dan mengikuti berita startup Indonesia dan gadget terbaru.